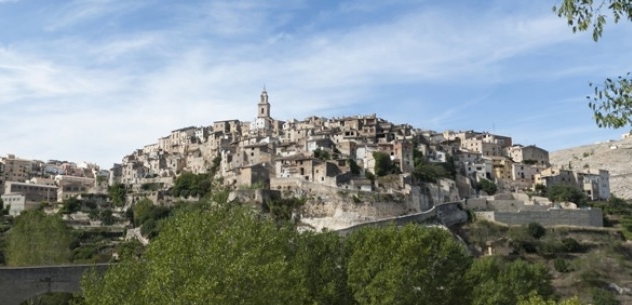 Bocairent
---
Bocairent is situated 660 metres above sea level, 96km from Valencia and 8km south of Ontinyent, at the southern end of the province of Valencia, bordering the region of Alicante.
Some of Bocairent's attractions that you can visit are the Moorish Caves (National Historic and Artistic Monument); the Medieval Quarter (Historic and Artistic Site), the Vinalopó chasm, the Mariola fountain and Mariola hill, the walk to Sant Jaume, the Santa Bárbara fountain and chapel (19th century). In the town centre, you can see the Plaça de Bous ('Bullring') sculpted out of rock (the oldest in the Valencian region – 1843), the Parish Museum (works from Juan de Juanes, Sorolla, Ribalta, Segrelles, Mestre Borbotó, Vergarabrothers…), the Church of Nuestra Señora de l'Assumpció, the Archaeological Museum, Sant Blai Cave (formerly used for refrigeration) and the Chapel of Santo Cristo (16th century).
Bocairent is also well known for its gastronomy. Bocairent is also well known for its gastronomy. Bajoques farcides (peppers stuffed with rice), olleta (a traditional stew), pericana (a traditional sauce/spread), "gaspatxos amb pebrella" ('pebrella gazpacho', pebrella is a herb similar to thyme), "cassola al forn" ('baked casserole'); and sweets such as"carquinyols" (almond biscuits), "mantecats" (shortbread), "pastissets de les monges" (traditional pastry) and "rotllo de Sant Blai" (traditional doughnut) are some of the traditional dishes.
Regarding popular festivals and cultural interest, a couple that stand out are the Moors and Christians Festival at Sant Blai from the 2nd to the 5th February (Tourist Interest) and the Sant Agustí Festival (medieval dances, from the 22nd to the 28th August).
Campings from this experience
---