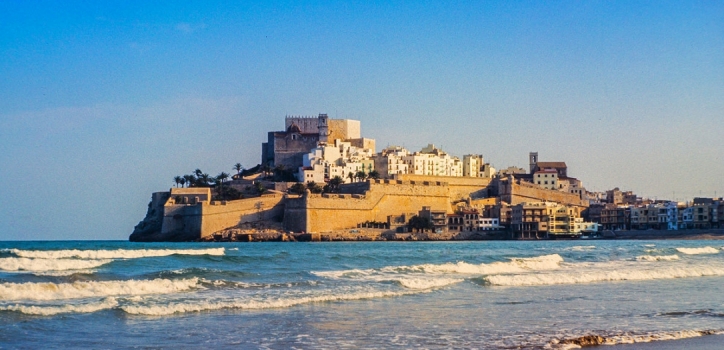 Peñíscola
---
Peñíscola is a municipality situated on the north coast of the Castellón province, in the region of Bajo Maestrazgo. It has held the title of City since 1707 and as of January 2013, Peñíscola has been considered one of The Most Beautiful Towns in Spain.
The city is on a tombolo, a rocky peninsula that was originally only linked to land by a sandy isthmus, which made it easy to defend. However, it occasionally flooded and was left buried under sea water. Today, due to the construction of the port and the buildings on the isthmus, this peculiar phenomenon has disappeared. On the rock, remains the old town, from which the castle of Papa Luna stands out, dividing the Peñíscola's coast into two completely different halves.
Peñíscola has extensive of beaches both to the north and to the south of the castle peninsula. The municipality of Peñíscola includes one of the most unspoilt coastal mountains on the Valencian coast, the Sierra de Irta, which ends up at the sea on a low, rocky coast and in some places with high cliffs such as the Badum.
The mountain occupies the southern two thirds of the 81km2 area. The northern part is a small alluvial plain that is shared with Benicarló and that stretches from the sea to the peaks of Puig.
The climate in Peñíscola is warm and temperate. Throughout the year, there is little rain and their average yearly temperature is 17.2C.
Campings from this experience
---