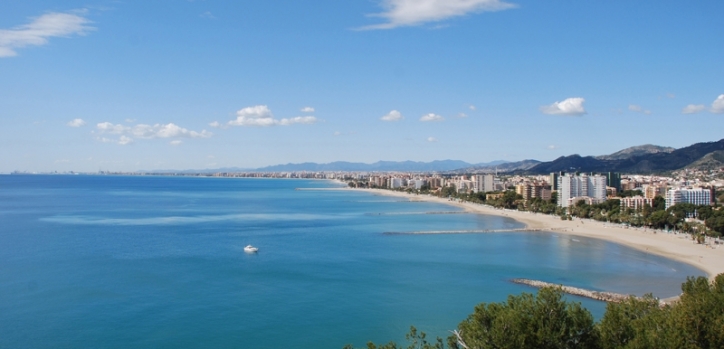 Benicasim
---
Benicasim is situated in the Castellón province, in the Plana Alta region. The municipality of Benicasim is located between the Sierra del Desert de Les Palmes and the Plana de Castellón. The land towards the south and the east is flat, whereas towards the west and the north is the Desert de Les Palmes and to the north-east is the Sierra de Oropesa or Cantallops.
Its highest altitude is Mount San Miguel or Bartolo (729m), a leading geodesic vertex andon the border with Puebla-Tornesa. One of its most notable altitudes is the Agulles de Santa Agueda (539m).
It has almost 7 kilometres of fine sandy beaches with jetties to protect them and many touristic services, which testify to the award of blue flag for the Cleanest Seas of Europe. These are the beaches from north to south: Voramar, Almadraba, Torre Sant Vicent, Els Terrers and Heliópolis.
The town has 204 caves and chasms, among which the Cantalar with prehistoric remains and the Queralt Cave stand out. You can access this town from Castellón on the N-340, via the AP-7 motorway (take exit 45 or 46). It also has rail connections (see Benicasim Station).
Campings from this experience
---